A man feared his wife wasn't hearing as well as she used to and he thought she might need a hearing aid. Not quite sure how to approach her, he called the family doctor to discuss the problem. The Doctor told him there is a simple informal test the husband could perform to give the doctor a better idea about her hearing loss.
Here's what you do," said the Doctor, "stand about 40 feet away from her, and in a normal conversational speaking tone see if she hears you. If not, go to 30 feet, then 20 feet, and so on until you get a response."
That evening, the wife is in the kitchen cooking dinner, and he was in the den. He stood about 40 feet away, and in a normal tone he asks, 'Honey, what's for dinner?" No response.
So the husband moves closer to the kitchen, about 30 feet from his wife and repeats, "Honey, what's for dinner?" Still no response.
Next he moves into the dining room where he is about 20 feet from his wife and asks, "Honey, what's for dinner?" Again he gets no response.
So, he walks up to the kitchen door, about 10 feet away.
"Honey, what's for dinner?" He hears nothing.
So he walks right up behind her.
"Honey, what's for dinner?"
....: (I just love this) :...
"Simon, for the fifth bloody time, CHICKEN."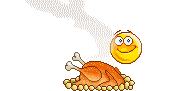 Thanks to Ai Shiang for highlighting the cause of hearing loss which is not necessary due to old age. By raising your voice you can also reach 85-dB. Eight hours of 90-dB sound can cause damage to your ears; any exposure to 140-dB sound causes immediate damage. This is an abstract from 'HowStuffWorks'. Got a buddy friend who is a safety engineer with a MNC told me that those listening to loud music in the car (very common nowadays??) and those working in disco and pubs would be easily affected.
Here are some common sounds and their decibel ratings:
Near total silence - 0 dB
Normal conversation - 60 dB
A rock concert or a jet engine - 120 dB
A gunshot or firecracker - 140 d
B
Part III ~ How's Your Hearing 2..